—/100
Checkpoints
arrow_forward
Verify that the Automated Assessment has been created
Verify that the Collector is activated and the IP scanner is properly configured
Start New Assessment (Manual) and Establish a collector
Verify Assets were Loaded (Inventory Check)
Verify that the StratoZone Reports have been generated
Verify that that Groups were created
Verify that the Optimization Mode was set to Aggressive
Verify that the second set of reports were generated
Verify Data is Being Received
VM Migration: Introduction to StratoZone Assessments
1 ora 30 minuti
7 crediti
GSP686

Overview
The StratoZone® SaaS platform provides customers with a data-driven cloud decision framework. The StratoProbe® Data Collector Application delivers the ability to easily deploy and scale the discovery of a customer's IT environment for Private, Public, or Hybrid-cloud planning. To ease and accelerate the VM migration journey, Google Cloud offers assistance and guidance in making the right decisions when deciding to go to cloud.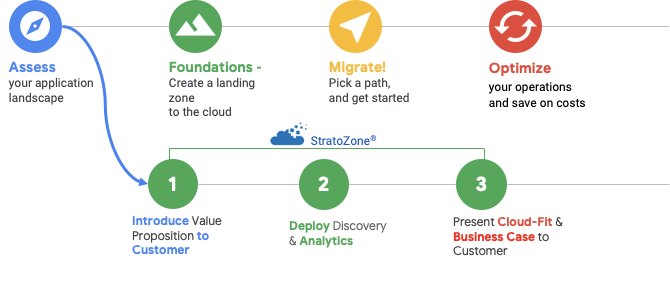 In this hands-on lab you'll learn how to assess a customer's current environment with StratoZone's scalable discovery. You'll generate inventory, cloud fit score, and financial reports including TCO and ROI analysis.
Crea un account Qwiklabs per leggere il resto del lab e tanto altro ancora.
Acquisisci accesso temporaneo a Google Cloud Console.
Oltre 200 lab dal livello iniziale a quelli più avanzati.
Corsi brevi per apprendere secondo i tuoi ritmi.
Crea un account per iniziare questo lab
Ti diamo il benvenuto nel tuo primo lab.
close
Salta video