VM Migration: Introduction to StratoZone Assessments
1 hora 30 minutos
7 créditos
GSP686

Overview
The StratoZone® SaaS platform provides customers with a data-driven cloud decision framework. The StratoProbe® Data Collector Application delivers the ability to easily deploy and scale the discovery of a customer's IT environment for Private, Public, or Hybrid-cloud planning. To ease and accelare the VM migration journey, Google Cloud offers assistance and guidance in making the right decisions when deciding to go to cloud.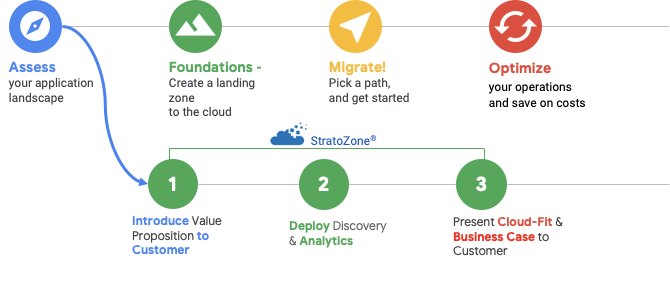 In this hands-on lab you'll learn how to assess a customer's current environment with StratoZone's scalable discovery. You'll generate inventory, cloud fit score, and financial reports including TCO and ROI analysis.
Participe do Qwiklabs para ler o restante deste laboratório e muito mais!
Receber acesso temporário a Console do Google Cloud.
Mais de 200 laboratórios, do nível iniciante ao avançado.
Tamanho compacto para que você possa aprender no seu próprio ritmo.
Participe para iniciar este laboratório
Pontuação
—/100
Verify that the Automated Assessment has been created
/ 10
Verify that the Collector is activated and the IP scanner is properly configured
/ 10
Start New Assessment (Manual) and Establish a collector
/ 10
Verify Assets were Loaded (Inventory Check)
/ 10
Verify that the StratoZone Reports have been generated
/ 10
Verify that that Groups were created
/ 10
Verify that the Optimization Mode was set to Aggressive
/ 10
Verify that the second set of reports were generated
/ 10
Verify Data is Being Received
/ 20