Checkpoints
arrow_forward
Create the source Compute Engine (source-vm)
Create a processing cluster
Verify creation of my-service through migration
Migrate for Anthos: Qwik Start
GSP682

Overview
VM instances can exist on premises, managed by products such as VMWare vSphere, and in public clouds such as AWS or Azure, in addition to Google Cloud Compute Engine instances.
Anthos is an open source application platform that enables you to modernize your existing applications on your hybrid or multi-cloud environment. You can build new VMs and run them anywhere in a secure manner. Anthos is built on open source technologies pioneered by Google — including Kubernetes, Istio, and Knative — and enables consistency between on-premises and cloud environments.
When workloads are upgraded to containers, IT departments can eliminate OS-level maintenance and security patching for VMs and automate policy and security updates at scale. Monitoring across on-premises and cloud environments is done through a single interface in the Cloud Console.
Migrate for Anthos provides an almost real-time solution to take an existing VM and make it available as a Kubernetes hosted pod with all the values associated with executing your applications in a Kubernetes cluster.
In this lab you create a simple Compute Engine virtual machine (VM), then use Migrate for Anthos to migrate the VM to a GKE processing cluster in the Cloud. You can perform the steps using either the migctl tool or the Cloud Console. migctl is a command-line tool for setting up and managing a Migrate for Anthos migration environment on Google Cloud. migctl is available in Cloud Shell.
How Migrate for Anthos allows you to containerize faster than other possibilities: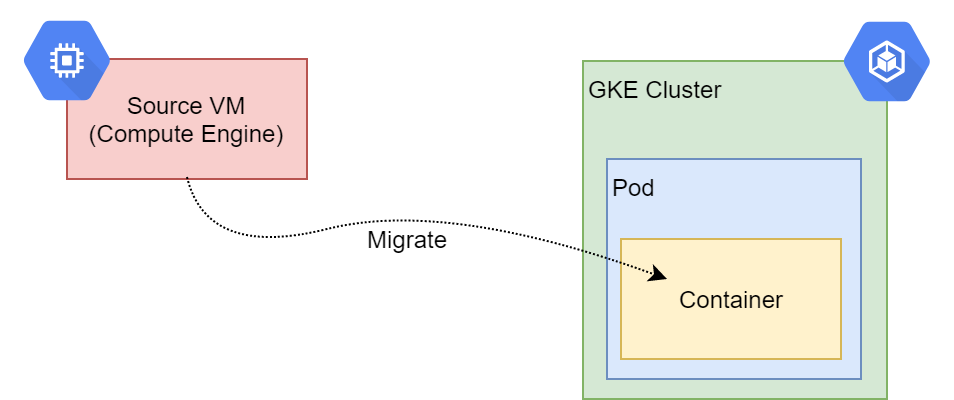 Join Qwiklabs to read the rest of this lab...and more!
Get temporary access to the Google Cloud Console.
Over 200 labs from beginner to advanced levels.
Bite-sized so you can learn at your own pace.
Join to Start This Lab