Checkpoints
Create a distribution metric
Launch a VM to generate audit log events
Viewing audit logs in BigQuery
Fundamentals of Cloud Logging
GSP610

Overview
Cloud Logging is part of the Operations suite of products in Google Cloud. It includes storage for logs, a user interface called the Logs Viewer, and an API to manage logs programmatically. Use Cloud Logging to read and write log entries, search and filter your logs, export your logs, and create logs-based metrics.
In this hands-on lab, you learn how to use Cloud Logging to accumulate application logs in a single place, filter to reach the required log, understand how to create logs based metrics for advanced analysis, examine the audit logs use case, and export logs for compliance and/or advanced analysis needs.
What you'll do
Launch an example Google App Engine application to generate logs.

Use Cloud Logging console to interact with the logs generated by the application.

Create log-based Cloud Monitoring metrics.

Use Cloud Logging to dive deep into Audit Logging.

Create an Export of logs into BigQuery.
Setup and requirements
Qwiklab setup
Before you click the Start Lab button
Read these instructions. Labs are timed and you cannot pause them. The timer, which starts when you click Start Lab, shows how long Google Cloud resources will be made available to you.
This Qwiklabs hands-on lab lets you do the lab activities yourself in a real cloud environment, not in a simulation or demo environment. It does so by giving you new, temporary credentials that you use to sign in and access Google Cloud for the duration of the lab.
What you need
To complete this lab, you need:
Access to a standard internet browser (Chrome browser recommended).
Time to complete the lab.
Note: If you already have your own personal Google Cloud account or project, do not use it for this lab.
Note: If you are using a Chrome OS device, open an Incognito window to run this lab.
Cloud Console
How to start your lab and sign in to the Google Cloud Console
Click the Start Lab button. If you need to pay for the lab, a pop-up opens for you to select your payment method. On the left is a panel populated with the temporary credentials that you must use for this lab.

Copy the username, and then click Open Google Console. The lab spins up resources, and then opens another tab that shows the Sign in page.

Tip: Open the tabs in separate windows, side-by-side.

In the Sign in page, paste the username that you copied from the Connection Details panel. Then copy and paste the password.

Important: You must use the credentials from the Connection Details panel. Do not use your Qwiklabs credentials. If you have your own Google Cloud account, do not use it for this lab (avoids incurring charges).

Click through the subsequent pages:

Accept the terms and conditions.
Do not add recovery options or two-factor authentication (because this is a temporary account).
Do not sign up for free trials.
After a few moments, the Cloud Console opens in this tab.
Activate Cloud Shell
Cloud Shell is a virtual machine that is loaded with development tools. It offers a persistent 5GB home directory and runs on the Google Cloud. Cloud Shell provides command-line access to your Google Cloud resources.
In the Cloud Console, in the top right toolbar, click the Activate Cloud Shell button.

Click Continue.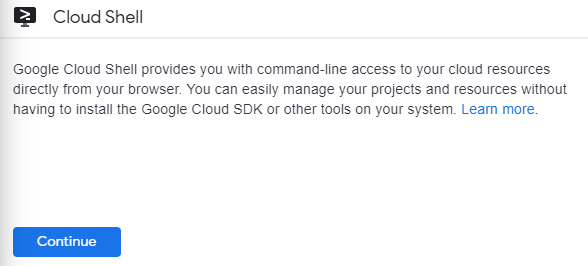 It takes a few moments to provision and connect to the environment. When you are connected, you are already authenticated, and the project is set to your PROJECT_ID. For example:

gcloud is the command-line tool for Google Cloud. It comes pre-installed on Cloud Shell and supports tab-completion.
You can list the active account name with this command:
gcloud auth list

(Output)
Credentialed accounts:
 - <myaccount>@<mydomain>.com (active)

(Example output)
Credentialed accounts:
 - google1623327_student@qwiklabs.net

You can list the project ID with this command:
gcloud config list project

(Output)
[core]
project = <project_ID>

(Example output)
[core]
project = qwiklabs-gcp-44776a13dea667a6

Qwiklabs に参加してこのラボの残りの部分や他のラボを確認しましょう。
Google Cloud Console への一時的なアクセス権を取得します。
初心者レベルから上級者レベルまで 200 を超えるラボが用意されています。
ご自分のペースで学習できるように詳細に分割されています。
参加してこのラボを開始