Network Performance Testing
GSP044

Overview
In this lab you'll learn how to perform basic networking tasks on Google Cloud Platform (including Compute Engine instances) and how GCP might differ from an on-premises setup. You'll set up a demo environment with a network and 5 subnetworks to use throughout the lab, and it will look like this: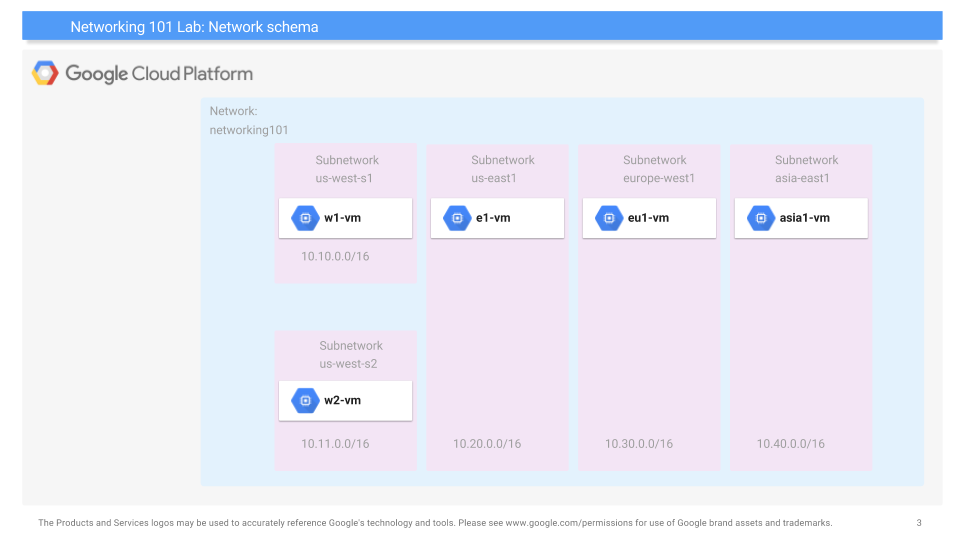 The exercises you'll do are ordered to reflect a common cloud developer experience:
Set up your lab environment and learn how to work with your GCP environment.

Use of common open source tools to explore your network around the world.

Testing and monitoring your network and instances.

Cleanup.
What you'll learn
How to measure latency between Google Compute Engine regions and zones

How to test network connectivity and performance using open source tools

How to inspect network traffic using Open Source tools
Prerequisites
Basic knowledge of Google Cloud services (best obtained by having previously taken the labs in the GCP Essentials Quest)
Basic networking and TCP/IP knowledge
Basic Unix/Linux command line knowledge
Join Qwiklabs to read the rest of this lab...and more!
Get temporary access to the Google Cloud Console.
Over 200 labs from beginner to advanced levels.
Bite-sized so you can learn at your own pace.
Join to Start This Lab