—/100
Checkpoints
arrow_forward
Review VM Series firewall logs
Test VM Series Security Feature
Palo Alto Networks VM-Series Advanced Threat Detection
1 hour 30 minutes
5 Credits
This lab was developed with our partner, Palo Alto Networks. Your personal information may be shared with Palo Alto Networks, the lab sponsor, if you have opted in to receive product updates, announcements, and offers in your Account Profile.
GSP748

Overview
In this lab you will use the Palo Alto Networks VM-Series deployed as an Intrusion Detection System (IDS) in Google Cloud.
Google Cloud Packet Mirroring clones the network packets of specific instances in your Virtual Private Cloud (VPC) network and forwards that cloned network packet to the VM-Series for examination. Packet Mirroring captures all ingress and egress traffic and packet data, such as payloads and headers.
IDS is a primary use case for Packet Mirroring in Google Cloud. You can use the VM-Series as an IDS to analyze mirrored traffic to detect all threats or anomalies, and provide an additional layer of security protections. Additionally, you can inspect the full traffic flow to detect application performance issues.
What you'll do
Review Google Cloud Packet Mirroring setup for VM-Series
Monitor the malicious activities at the VM-Series
Browse to a juice-shop web page
Perform SQL Injection attacks at the juice-shop website
Exploit a Jenkins instance from a Linux instance
Test two more security features of VM-Series
Antivirus - Download a test virus file from an Linux instance
URL Filtering - access a hacking website from a Linux instance
Topology: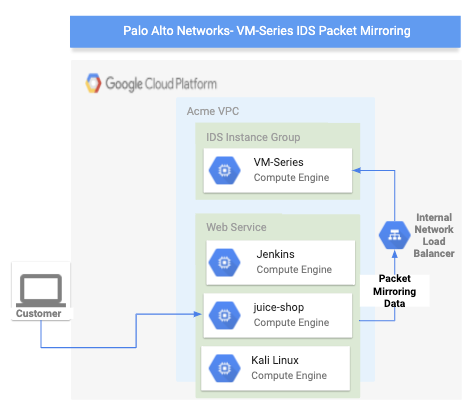 The VM-Series firewall, Google Cloud VPC Packet Mirroring, Jenkins Server, Juice Shop web server and Kali Linux server will be pre configured for you.
Join Qwiklabs to read the rest of this lab...and more!
Get temporary access to the Google Cloud Console.
Over 200 labs from beginner to advanced levels.
Bite-sized so you can learn at your own pace.
Join to Start This Lab