—/100
Checkpoints
arrow_forward
Create a GKE cluster and set up cloud run events
Build a BigQuery Processing Pipeline with Events for Cloud Run for Anthos
GSP760

Overview
As serverless architecture is adopted, "events" become an integral part of how individual micro-services are connected yet de-coupled. Events for Cloud Run for Anthos makes "events" a first-class citizen of the Cloud Run for Anthos offering, so that it is easy to build event-driven serverless applications.
Events enable Cloud Run services to produce and/or react to events from a variety of on-cluster as well as off-cluster event sources. Events are delivered over HTTP in the portable CloudEvents format, and application developers do not have to worry about implementing a messaging solutions. Rely on the system for event ingestion, delivery, authentication, authorization, observability and error-handling, while you focus on developing an application code to solve a business problem.
In this lab you will build a BigQuery processing pipeline to query a public COVID-19 dataset on a schedule, create charts from that data, then notify users about the new charts via SendGrid with Events for Cloud Run for Anthos. To use SendGrid account, set up a trial account with your own email account if you don't already have one. Follow this doc for more details on how to set up SendGrid.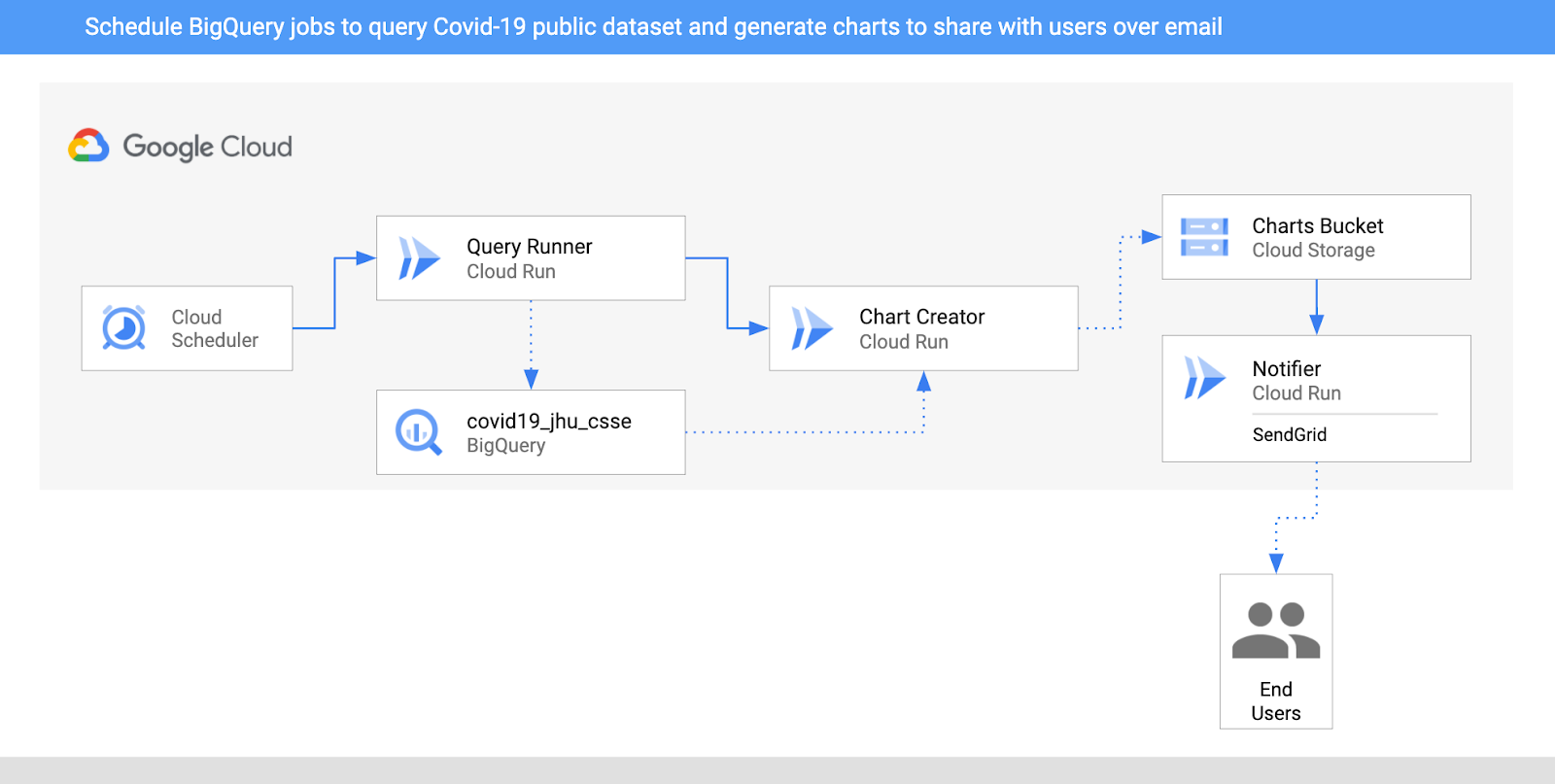 How does this work:
Two CloudSchedulerSources are set up to call the QueryRunner service once a day for two countries.

QueryRunner receives the scheduler event for both countries, queries Covid-19 cases for the country using BigQuery's public Covid-19 dataset, and saves the result in a separate BigQuery table. Once done, QueryRunner returns a custom CloudEvent of type dev.knative.samples.querycompleted.

ChartCreator receives the querycompleted event, creates a chart from BigQuery data using mathplotlib and saves it to a Cloud Storage bucket.

Notifier receives the com.google.cloud.storage.object.finalize event from the bucket via a CloudStorageSource and sends an email notification to users using SendGrid.
Join Qwiklabs to read the rest of this lab...and more!
Get temporary access to the Google Cloud Console.
Over 200 labs from beginner to advanced levels.
Bite-sized so you can learn at your own pace.
Join to Start This Lab