Checkpoints
arrow_forward
Googleapis have been enabled
Number generator Cloud Function deployed
Multiplier Cloud Function deployed
Floor Cloud Run service deployed
Serverless Orchestration with Workflows
GSP853

Overview
Workflows is used to create serverless workflows that link a series of serverless tasks together in an order you define. You can combine the power of Google Cloud's APIs, serverless products like Cloud Functions and Cloud Run, and calls to external APIs to create flexible serverless applications.
A workflow is made up of a series of steps described using the Workflows YAML-based syntax. This is the workflow's definition. For a detailed explanation of the Workflows YAML syntax, see the Syntax reference page.
When a workflow is created, it is deployed, which makes the workflow ready for execution. An execution is a single run of the logic contained in a workflow's definition. All workflow executions are independent and the product supports a high number of concurrent executions.
Workflows requires no infrastructure management and scales seamlessly with demand, including scaling down to zero. With its pay-per-use pricing model, you only pay for execution time.
In this lab you will connect Cloud Functions and Cloud Run services with Workflows and connect two public Cloud Functions services, one private Cloud Run service, and an external public HTTP API into a workflow.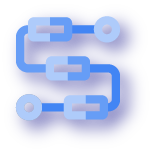 What you'll learn
Basics of Workflows.

How to connect public Cloud Functions with Workflows.

How to connect private Cloud Run services with Workflows.

How to connect external HTTP APIs with Workflows.
Prerequisites
Based on the content, it is recommended to have some familiarity with:
Dołącz do Qwiklabs, aby zapoznać się z resztą tego modułu i innymi materiałami.
Uzyskaj tymczasowy dostęp do Google Cloud Console.
Ponad 200 modułów z poziomów od początkującego do zaawansowanego.
Podzielono na części, więc można uczyć się we własnym tempie.
Dołącz, aby rozpocząć ten moduł