Checkpoints
Create service key for default service account
Building a VPN Between Google Cloud and AWS with Terraform
GSP854

Overview
This lab will show you how to use Terraform by HashiCorp to create secure, private, site-to-site connections between Google Cloud and Amazon Web Services (AWS) using virtual private networks (VPNs). This is a multi-cloud deployment.
In this lab, you will deploy virtual machine (VM) instances into custom virtual private cloud (VPC) networks in Google Cloud and AWS. You then deploy supporting infrastructure to construct a VPN connection with two Internet Protocol security (IPsec) tunnels between the Google Cloud and AWS VPC networks. The environment and tunnel deployment usually completes within four minutes. This lab is based off of the Automated Network Deployment tutorial.
Deployment Architecture
In this lab, you build the following deployment environment: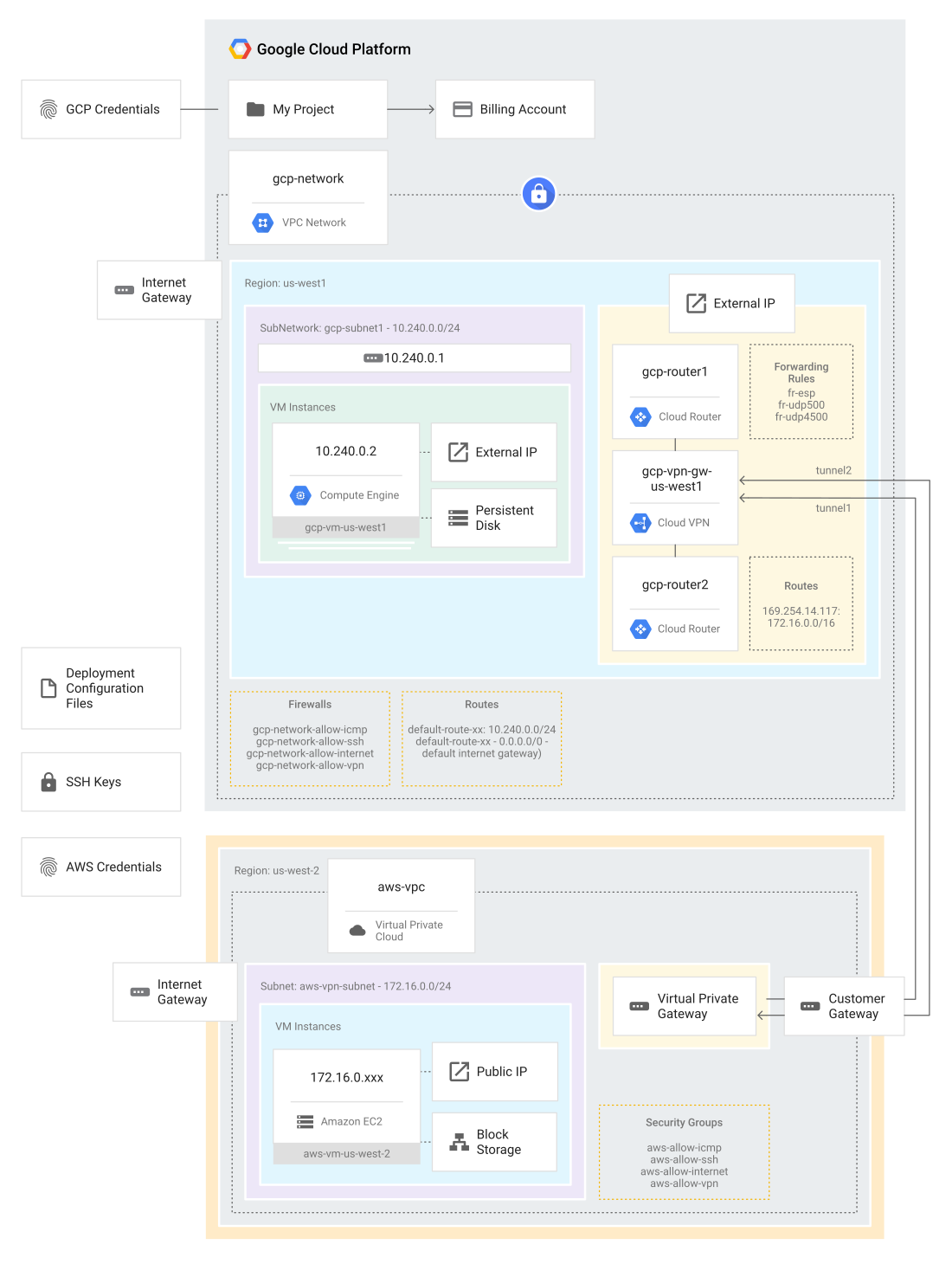 Objectives
In this lab, you will:
Build custom VPC networks with user-specified CIDR blocks in Google Cloud and AWS
Deploy a VM instance in each VPC network
Create VPN gateways in each VPC network and related resources for two IPsec tunnels
While Google Cloud uses routes to support equal-cost multi-path (ECMP) routing, AWS supports VPN gateways with two tunnels, active and standby, for redundancy and availability.
Routing
The lab configuration uses Cloud Router to demonstrate dynamic routing. Cloud Router exchanges your VPC network route updates with your environment in AWS using Border Gateway Protocol (BGP). Dynamic routing by Cloud Router requires a separate Cloud Router for each IPsec tunnel. Alternatively, you can configure a setup with static routes. Both configurations are covered in the Cloud VPN Interop Guide.
加入 Qwiklabs 即可阅读本实验的剩余内容…以及更多精彩内容!
获取对"Cloud Console"的临时访问权限。
200 多项实验,从入门级实验到高级实验,应有尽有。
内容短小精悍,便于您按照自己的节奏进行学习。
加入以开始此实验