Checkpoints
Securing the Cluster with a Policy
Securing Your GKE Deployments with Binary Authorization
1 hour 15 minutes
9 Credits
GSP242

Overview
Google Kubernetes Engine and its underlying container model provide increased scalability and manageability for applications hosted in the Cloud. It's easier than ever to launch flexible software applications according to the runtime needs of your system.
This flexibility, however, can come with new challenges. In such environments, it can be difficult to ensure that every component is built, tested, and released according to your best practices and standards, and that only authorized software is deployed to your production environment.
Binary Authorization (BinAuthz) is a service that aims to reduce some of these concerns by adding deploy-time policy enforcement to your Kubernetes Engine cluster. Policies can be written to require one or more trusted parties (called "attestors") to approve of an image before it can be deployed. For a multi-stage deployment pipeline where images progress from development to testing to production clusters, attestors can be used to ensure that all required processes have completed before software moves to the next stage.
The identity of attestors is established and verified using cryptographic public keys, and attestations are digitally signed using the corresponding private keys. This ensures that only trusted parties can authorize deployment of software in your environment.
At deployment time, Binary Authorization enforces the policy you defined by checking that the container image has passed all required constraints -- including that all required attestors have verified that the image is ready for deployment. If the image passes, the service allows it to be deployed. Otherwise, deployment is blocked and the image cannot be deployed until it is compliant.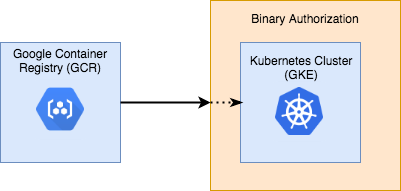 What You'll Build
This lab describes how to secure a GKE cluster using Binary Authorization. To do this, you will create a policy that all deployments must conform to, and apply it to the cluster. As part of the policy creation, you will create an attestor that can verify container images, and use it to sign and run a custom image.
The purpose of this lab is to give a brief overview of how container signing works with Binary Authorization. With this knowledge, you should feel comfortable building a secure CI/CD pipeline, secured by trusted attestors.
What You'll Learn
How to enable Binary Authorization on a GKE cluster.
How to define a Binary Authorization policy.
How to create an attestor and associate it with the policy.
How to sign an image as an attestor.
Join Qwiklabs to read the rest of this lab...and more!
Get temporary access to the Google Cloud Console.
Over 200 labs from beginner to advanced levels.
Bite-sized so you can learn at your own pace.
Join to Start This Lab