A Tour of Cloud IoT Core
1 Stunde 15 Minuten
7 Guthabenpunkte
GSP224

Introductions
Cloud IoT Core is a fully managed service that allows you to easily and securely connect, manage, and ingest data from millions of globally dispersed devices. Cloud IoT Core, in combination with other services on Google Cloud, provides a complete solution for collecting, processing, analyzing, and visualizing IoT data in real time to support improved operational efficiency.

In this lab you'll build a simple but complete IoT system using Cloud IoT Core. The devices in this system publish temperature data to their telemetry feeds, and a server consumes the telemetry data from a Cloud Pub/Sub topic. The server then decides whether to turn on or off the individual devices' fans, via a Cloud IoT Core configuration update. The device will respond to configuration changes from a server based on real-time data.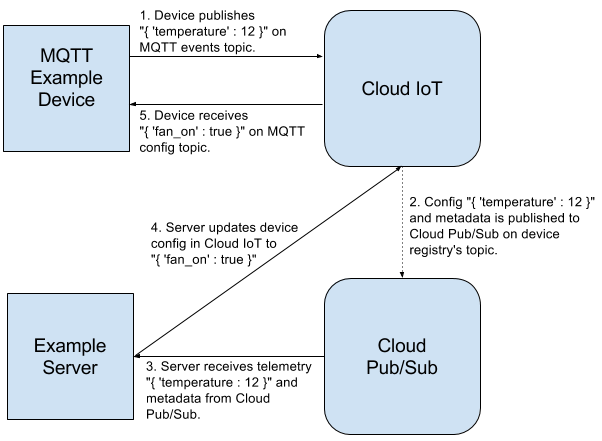 What you'll learn
How to create a device registry and add a device to it

How to provision a device and transmit telemetry data from it

How to control a device using a server based on a telemetry stream

[Optional] How to go from virtual device to hardware
Wenn Sie sich in Qwiklabs anmelden, erhalten Sie Zugriff auf den Rest des Labs – und mehr!
Sie erhalten vorübergehenden Zugriff auf Google Cloud Console.
Mehr als 200 Labs für Einsteiger und Experten.
In kurze Sinneinheiten eingeteilt, damit Sie in Ihrem eigenen Tempo lernen können.
Beitreten, um dieses Lab zu starten