Checkpoints
Creating Cloud Storage buckets
Verificar meu progresso
/ 20
Creating Cloud Pub/Sub topics
Verificar meu progresso
/ 20
Creating Cloud Storage notifications
Verificar meu progresso
/ 20
Create the BigQuery dataset and table
Verificar meu progresso
/ 10
Deploying the Cloud Functions
Verificar meu progresso
/ 20
Testing the flow
Verificar meu progresso
/ 10
Scanning User-generated Content Using the Cloud Video Intelligence and Cloud Vision APIs
1 hora 30 minutos
7 créditos
GSP138

This lab will show you how to deploy a set of Cloud Functions in order to process images and videos with the Cloud Vision API and Cloud Video Intelligence API.
Social marketing campaigns often invite consumers to submit user-generated images and videos. Campaigns that solicit videos and images often use them for contest submissions, product testimonials, or as user-generated content for public campaign websites. Processing these submissions at scale requires considerable resources.
The Cloud Video Intelligence and Cloud Vision APIs offer you a scalable and serverless way to implement intelligent image and video filtering, accelerating submission processing. If you use the safe-search feature in the Vision API solution and the explicit content detection feature in the Video Intelligence API, you can eliminate images and videos that are identified as unsafe or undesirable content before further processing.
Objectives
Requirements
You'll need image and video files that you can upload into the lab for analysis. Ideally they would be of different types - with people whose faces can be seen, no people, landscape, close-ups - so you can see how the image analysis treats the image. You can also just use a single image or video.
Setup and Requirements
Qwiklabs setup
Before you click the Start Lab button
Read these instructions. Labs are timed and you cannot pause them. The timer, which starts when you click Start Lab, shows how long Google Cloud resources will be made available to you.
This Qwiklabs hands-on lab lets you do the lab activities yourself in a real cloud environment, not in a simulation or demo environment. It does so by giving you new, temporary credentials that you use to sign in and access Google Cloud for the duration of the lab.
What you need
To complete this lab, you need:
Access to a standard internet browser (Chrome browser recommended).
Time to complete the lab.
Note: If you already have your own personal Google Cloud account or project, do not use it for this lab.
Note: If you are using a Chrome OS device, open an Incognito window to run this lab.
How to start your lab and sign in to the Google Cloud Console
Click the Start Lab button. If you need to pay for the lab, a pop-up opens for you to select your payment method. On the left is a panel populated with the temporary credentials that you must use for this lab.

Copy the username, and then click Open Google Console. The lab spins up resources, and then opens another tab that shows the Sign in page.

Tip: Open the tabs in separate windows, side-by-side.

In the Sign in page, paste the username that you copied from the Connection Details panel. Then copy and paste the password.

Important: You must use the credentials from the Connection Details panel. Do not use your Qwiklabs credentials. If you have your own Google Cloud account, do not use it for this lab (avoids incurring charges).

Click through the subsequent pages:

Accept the terms and conditions.
Do not add recovery options or two-factor authentication (because this is a temporary account).
Do not sign up for free trials.
After a few moments, the Cloud Console opens in this tab.
Activate Cloud Shell
Cloud Shell is a virtual machine that is loaded with development tools. It offers a persistent 5GB home directory and runs on the Google Cloud. Cloud Shell provides command-line access to your Google Cloud resources.
In the Cloud Console, in the top right toolbar, click the Activate Cloud Shell button.

Click Continue.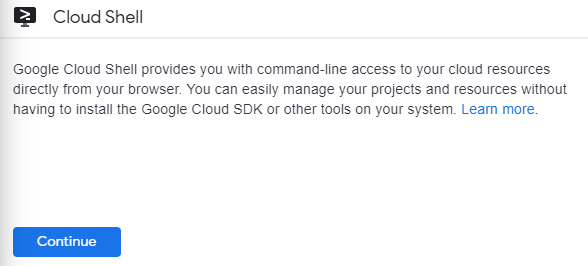 It takes a few moments to provision and connect to the environment. When you are connected, you are already authenticated, and the project is set to your PROJECT_ID. For example:

gcloud is the command-line tool for Google Cloud. It comes pre-installed on Cloud Shell and supports tab-completion.
You can list the active account name with this command:
gcloud auth list

(Output)
Credentialed accounts:
 - <myaccount>@<mydomain>.com (active)

(Example output)
Credentialed accounts:
 - google1623327_student@qwiklabs.net

You can list the project ID with this command:
gcloud config list project

(Output)
[core]
project = <project_ID>

(Example output)
[core]
project = qwiklabs-gcp-44776a13dea667a6

Participe do Qwiklabs para ler o restante deste laboratório e muito mais!
Receber acesso temporário a Console do Google Cloud.
Mais de 200 laboratórios, do nível iniciante ao avançado.
Tamanho compacto para que você possa aprender no seu próprio ritmo.
Participe para iniciar este laboratório