—/5
Checkpoints
arrow_forward
Create a Network Load-Balanced Logbook Application
GSP147

Overview
In this lab you learn how to build a logbook application using Node.js as the frontend and MySQL on the backend. You'll also create a network load balancer and an autoscaler to watch the frontend instances and scale when necessary. To start, you create templates that define these resources separately. Later, you call these templates in your final configuration and Deployment Manager deploys your app.
Your deployment contains these resources: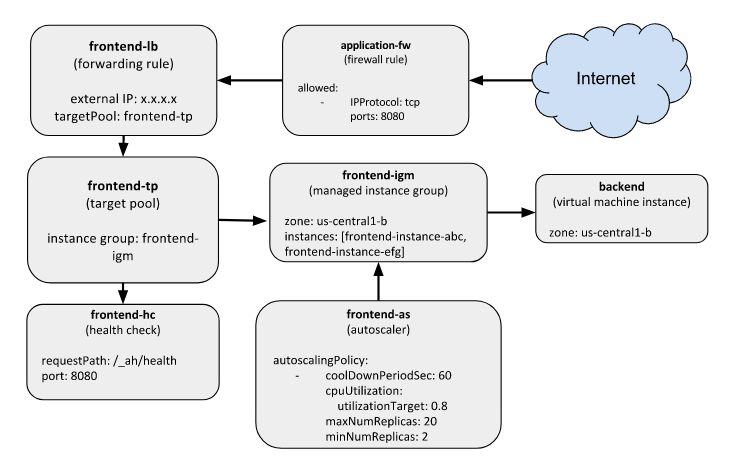 By the end of the lab you have:
A single Compute Engine instance that hosts the MySQL database in the backend.

An instance template that uses a Docker image to create a managed instance group for the frontend node.js instances.

A managed instance group that uses the instance template to create two frontend instances.

An autoscaler, a health check, and a load balancer with a forwarding rule and a target pool for the managed instance group.
Participe do Qwiklabs para ler o restante deste laboratório e muito mais!
Receber acesso temporário a Console do Google Cloud.
Mais de 200 laboratórios, do nível iniciante ao avançado.
Tamanho compacto para que você possa aprender no seu próprio ritmo.
Participe para iniciar este laboratório