Checkpoints
Create Kubernetes Engine cluster
Create OpenTSDB tables in Bigtable
Create ClusterRoleBinding for heapster
Examining time-series data with OpenTSDB
Using OpenTSDB to Monitor Time-Series Data on Cloud Platform
1 hour 15 minutes
7 Credits
GSP142

Overview
In this lab you will learn how to collect, record, and monitor time-series data on Google Cloud using OpenTSDB running on Google Kubernetes Engine and Cloud Bigtable.
Time-series data is a highly valuable asset that you can use for several applications, including trending, monitoring, and machine learning. You can generate time-series data from server infrastructure, application code, and other sources. OpenTSDB can collect and retain large amounts of time-series data with a high degree of granularity.
In this hands-on lab you will create a scalable data collection layer using Kubernetes Engine and work with the collected data using Bigtable. The following diagram illustrates the high-level architecture of the solution: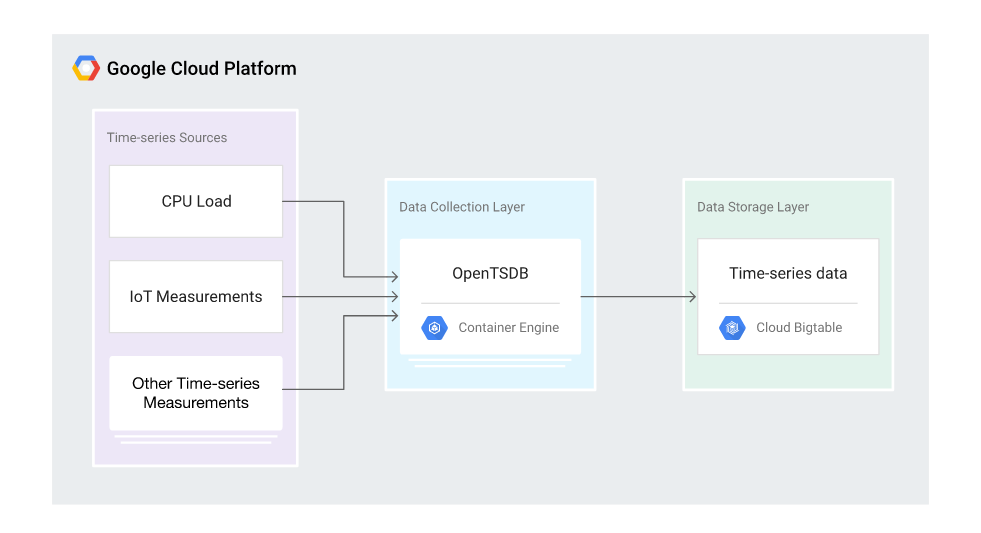 Objectives
Create a new Bigtable instance.

Create a new Kubernetes Engine cluster.

Deploy OpenTSDB to your Kubernetes Engine cluster.

Send time-series metrics to OpenTSDB.

Visualize metrics using OpenTSDB and Grafana.
Join Qwiklabs to read the rest of this lab...and more!
Get temporary access to the Google Cloud Console.
Over 200 labs from beginner to advanced levels.
Bite-sized so you can learn at your own pace.
Join to Start This Lab