—/100
Checkpoints
arrow_forward
Create Kubernetes Engine cluster
Create OpenTSDB tables in Bigtable
Create ClusterRoleBinding for heapster
Examining time-series data with OpenTSDB
Using OpenTSDB to Monitor Time-Series Data on Cloud Platform
1 heure 15 minutes
7 crédits
GSP142

Overview
In this lab you will learn how to collect, record, and monitor time-series data on Google Cloud using OpenTSDB running on Google Kubernetes Engine and Cloud Bigtable.
Time-series data is a highly valuable asset that you can use for several applications, including trending, monitoring, and machine learning. You can generate time-series data from server infrastructure, application code, and other sources. OpenTSDB can collect and retain large amounts of time-series data with a high degree of granularity.
In this hands-on lab you will create a scalable data collection layer using Kubernetes Engine and work with the collected data using Bigtable. The following diagram illustrates the high-level architecture of the solution: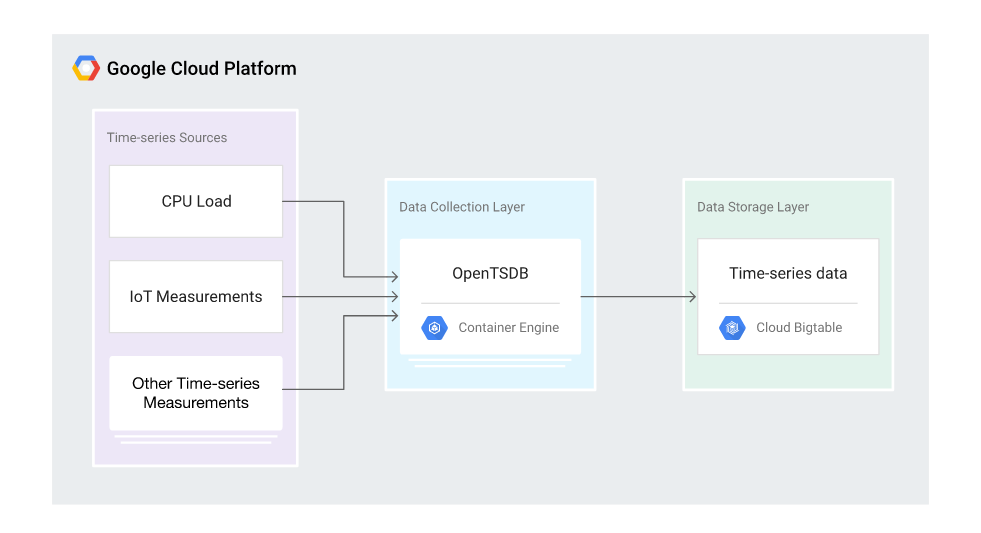 Objectives
Create a new Bigtable instance.

Create a new Kubernetes Engine cluster.

Deploy OpenTSDB to your Kubernetes Engine cluster.

Send time-series metrics to OpenTSDB.

Visualize metrics using OpenTSDB and Grafana.
Inscrivez-vous sur Qwiklabs pour consulter le reste de cet atelier, et bien plus encore.
Obtenez un accès temporaire à Google Cloud Console.
Plus de 200 ateliers, du niveau débutant jusqu'au niveau expert.
Fractionné pour vous permettre d'apprendre à votre rythme.
Inscrivez-vous pour démarrer cet atelier