Solutions Architect - Associate
4時間 universal_currency_alt クレジット: 12
Achieving AWS Certification requires hands-on experience. This quest helps you get hands-on practice with several key services as you prepare for the AWS Certified Solutions Architect – Associate Exam. Visit
AWS Certification
to learn more about this exam and find more resources to prepare.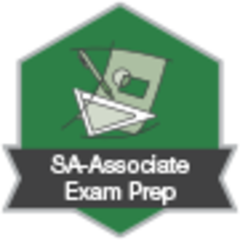 このコースのすべてのアクティビティを完了してバッジを獲得しましょう。クエスト、ゲーム、コースを完了して Qwiklabs のバッジを収集しましょう。バッジをすべて集めてスキルをアピールしましょう。
ラボ
このラボでは、AWS Identity and Access Management (IAM) を使用して AWS のサービスへのアクセス権限を管理する方法について説明します。グループへのユーザー追加、パスワード管理、IAM で作成されたユーザーを使ったログイン、および特定のサービスへのアクセスに対し IAM ポリシーの及ぼす効果について、ステップごとに演習します。
ラボ
このラボでは、Amazon EC2 インスタンスの作成、サイズ変更、管理、監視の基本的な概要について学びます。割り当てられているリージョンを変更しないでください。
ラボ
warning Caching Static Files with Amazon CloudFront
This lab demonstrates how to start distributing your web content with Amazon CloudFront by taking a simple static website in Amazon S3 and integrating it with Amazon CloudFront to deliver your website content from AWS edge locations. The majority of this lab will focus on creating an Amazon CloudFront distribution with the AWS Management Console, and then adapting the existing web pages to use Amazon CloudFront.
ラボ
This lab will demonstrate how to create an Amazon Virtual Private Cloud (VPC) network using AWS CloudFormation. Note: This lab is a more of a walkthrough of a template rather than "learn how to build it". You will walk through the sections of an AWS CloudFormation template and get explanations for each step. You will then launch the AWS CloudFormation template to create a four-subnet Amazon VPC that spans two Availability Zones and a NAT that allows servers in the private subnets to communicate with the Internet in order to download packages and updates.