Solutions Architect - Associate
4시간 universal_currency_alt 크레딧 12개
Achieving AWS Certification requires hands-on experience. This quest helps you get hands-on practice with several key services as you prepare for the AWS Certified Solutions Architect – Associate Exam. Visit
AWS Certification
to learn more about this exam and find more resources to prepare.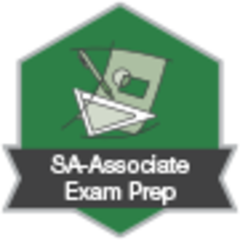 이 강의 내의 모든 활동을 완료하면 배지를 획득하게 됩니다. Qwiklabs 여기저기에서 퀘스트, 게임, 강의를 완료하여 배지를 획득하세요. 모든 배지를 획득하여 새로 습득한 기술을 자랑해 보세요.
실습
This lab shows you how to manage access and permissions to your AWS services using AWS Identity and Access Management (IAM). Practice the steps to add users to groups, manage passwords, log in with IAM-created users, and see the effects of IAM policies on access to specific services.
실습
This lab provides you with a basic overview of launching, resizing, managing, and monitoring an Amazon EC2 instance.
실습
warning Caching Static Files with Amazon CloudFront
This lab demonstrates how to start distributing your web content with Amazon CloudFront by taking a simple static website in Amazon S3 and integrating it with Amazon CloudFront to deliver your website content from AWS edge locations. The majority of this lab will focus on creating an Amazon CloudFront distribution with the AWS Management Console, and then adapting the existing web pages to use Amazon CloudFront.
실습
This lab will demonstrate how to create an Amazon Virtual Private Cloud (VPC) network using AWS CloudFormation. Note: This lab is a more of a walkthrough of a template rather than "learn how to build it". You will walk through the sections of an AWS CloudFormation template and get explanations for each step. You will then launch the AWS CloudFormation template to create a four-subnet Amazon VPC that spans two Availability Zones and a NAT that allows servers in the private subnets to communicate with the Internet in order to download packages and updates.