Create and Manage Cloud Resources
date_range 5 hours show_chart Introductory universal_currency_alt 14 积分
Earn a skill badge by completing the Create and Manage Cloud Resources quest, where you learn how to do the following: Write gcloud commands and use Cloud Shell, create and deploy virtual machines in Compute Engine, run containerized applications on Google Kubernetes Engine, and configure network and HTTP load balancers.
A skill badge is an exclusive digital badge issued by Google Cloud in recognition of your proficiency with Google Cloud products and services and tests your ability to apply your knowledge in an interactive hands-on environment. Complete this skill badge quest, and the final assessment challenge lab, to receive a skill badge that you can share with your network.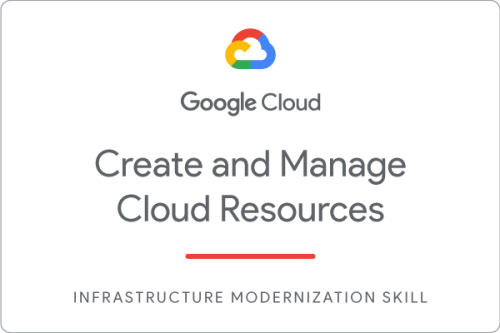 Enroll in this quest to track your progress toward earning a badge.
Enroll in this on-demand quest
info
Quest Info
infrastructure