Deploy and Manage Cloud Environments with Google Cloud
8 hours Expert universal_currency_alt 35 Credits
Earn a
skill badge
by completing the
Deploy and Manage Cloud Environments with Google Cloud
quest, where you will learn how to deploy and manage a containerized application using Google Kubernetes Engine and kubectl; launch a VM-based application and then monitor and stress the application; deploy continuous delivery pipelines using Google Kubernetes Engine and Spinnaker; create and control access to multiple VPC networks, configure and use Cloud Monitoring to troubleshoot breaks in applications.
A skill badge is an exclusive digital badge issued by Google Cloud in recognition of your proficiency with Google Cloud products and services and tests your ability to apply your knowledge in an interactive hands-on environment. Complete the skill badge quest, and final assessment challenge lab, to receive a digital badge that you can share with your network.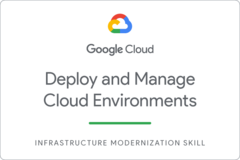 Complete this activity and earn a badge! Boost your cloud career by showing the world the skills you've developed.
info
Quest Info
Prior to enrolling in this skill badge quest, it is recommended that you complete the the following quests: