Create ML Models with BigQuery ML
7시간 Fundamental universal_currency_alt 크레딧 34개
Earn a
skill badge
by completing the
Create ML Models with BigQuery ML
quest, where you learn how to use BigQuery ML to: create machine learning models, create a classification model, create a forecasting model, and implement a chatbot using Dialogflow for dynamic real-time responses.
A skill badge is an exclusive digital badge issued by Google Cloud in recognition of your proficiency with Google Cloud products and services and tests your ability to apply your knowledge in an interactive hands-on environment. Complete this skill badge quest, and the final assessment challenge lab, to receive a skill badge that you can share with your network.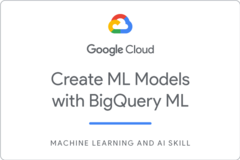 이 강의 내의 모든 활동을 완료하면 배지를 획득하게 됩니다. Qwiklabs 여기저기에서 퀘스트, 게임, 강의를 완료하여 배지를 획득하세요. 모든 배지를 획득하여 새로 습득한 기술을 자랑해 보세요.