Build and Optimize Data Warehouses with BigQuery
7 个小时 Fundamental universal_currency_alt 34 个积分
Earn a
skill badge
by completing the
Build and Optimize Data Warehouses with BigQuery
quest, where you will learn how to transform your data warehouse using BigQuery, including how to: 1. Use a command line interface to query and load sample data. 2. Create new reporting tables using SQL, JOINS, and UNIONs. 3. Create dataset partitions that will reduce cost and improve query performance. 4. Create and troubleshoot joins. 5. Load, query, and un-nest semi-structured datasets. 6. Use Data Catalog.
A skill badge is an exclusive digital badge issued by Google Cloud in recognition of your proficiency with Google Cloud products and services and tests your ability to apply your knowledge in an interactive hands-on environment. Complete the skill badge quest, and final assessment challenge lab, to receive a digital badge that you can share with your network.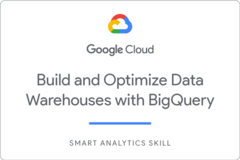 完成此课程中的所有活动即可赢取一枚徽章。完成挑战任务、游戏和课程即可收集 Qwiklabs 中的徽章。集齐所有徽章,彰显您的技能!
info
Quest Info
Prior to enrolling in this skill badge quest, it is recommended that you have a basic knowledge of SQL.