SysOps Administrator - Associate
7 hours universal_currency_alt 46 Credits
Achieving AWS Certification requires hands-on experience. This quest helps you get hands-on practice with several key services as you prepare for the AWS Certified SysOps Administrator - Associate Exam. Visit
AWS Certification
to learn more about this exam and find more resources to prepare.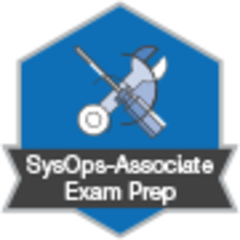 Complete this activity and earn a badge! Boost your cloud career by showing the world the skills you've developed.
Lab
This lab shows you how to manage access and permissions to your AWS services using AWS Identity and Access Management (IAM). Practice the steps to add users to groups, manage passwords, log in with IAM-created users, and see the effects of IAM policies on access to specific services.
Lab
This lab provides you with a basic overview of launching, resizing, managing, and monitoring an Amazon EC2 instance.
Lab
This lab will show you how to launch a Drupal Open Souce Content Management System (CMS) on Amazon Relational Database Service (Amazon RDS) for MySQL as the backend database with a multi-Availability Zone (AZ) deployment.
Lab
This lab demonstrates how to access and manage AWS services in three ways: through the AWS Management Console, the AWS Command Line Interface (CLI), and the AWS Software Development Kit (SDK). You will use one or more of these three options to access Amazon S3, Amazon EBS, Amazon EC2 and Amazon CloudWatch.
Lab
warning Maintaining High Availability with Auto Scaling (for Linux)
This lab introduces the basics of Auto Scaling, highlighting multiple Auto Scaling use cases and the command-line tools used for Auto Scaling configuration. After completing this lab you will have configured and tested an elastic web farm which automatically scales capacity to accommodate load. In addition you will have explored a steady state use case in which Auto Scaling is used to maintain high availability of critical resources.
Lab
This lab covers how to use AWS CloudFormation to provision a web application with a number of supporting AWS products and services, including Auto Scaling Groups, Amazon EC2 Instances, Elastic Load Balancers, and more. It also covers how to use AWS CloudFormation to manage infrastructure and reconfigure Auto Scaling Groups.
info
Quest Info
This quest is designed to help you get hands-on practice with several key services which are addressed in the
AWS Certified SysOps Administrator – Associate exam blueprint
. Practice fundamental and advanced concepts for working with AWS IAM, Amazon EC2, Amazon EBS, Amazon RDS, Amazon VPC, Auto Scaling, AWS CLI, and AWS CloudFormation