Exploring Data with Looker
6 hours Introductory universal_currency_alt Free
Earn a
skill badge
by completing the
Exploring Data with Looker
quest, where you will learn how to use the Explore interface to access data published by LookML developers. In this quest, you will learn fundamentals of data exploration in Looker including but not limited to dimensions and measures, filtering and pivoting, merging explores, and using advanced functions.
A skill badge is an exclusive digital badge issued by Google Cloud in recognition of your proficiency with Google Cloud products and services and tests your ability to apply your knowledge in an interactive hands-on environment. Complete this skill badge quest and the final assessment challenge lab to receive a skill badge that you can share with your network.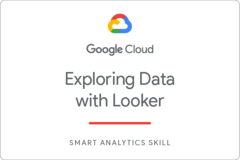 Complete this activity and earn a badge! Boost your cloud career by showing the world the skills you've developed.
info
Quest Info
Use Looker to validate a business problem or opportunity using data
Share data insight with your team