Understanding Your Google Cloud Costs
5시간 Fundamental universal_currency_alt 크레딧 3개
This Quest is most suitable for those working in a technology or finance role who are responsible for managing Google Cloud costs. You'll learn how to set up a billing account, organize resources, and manage billing access permissions. In the hands-on labs, you'll learn how to view your invoice, track your Google Cloud costs with Billing reports, analyze your billing data with BigQuery or Google Sheets, and create custom billing dashboards with Data Studio.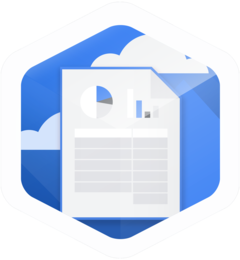 이 강의 내의 모든 활동을 완료하면 배지를 획득하게 됩니다. Qwiklabs 여기저기에서 퀘스트, 게임, 강의를 완료하여 배지를 획득하세요. 모든 배지를 획득하여 새로 습득한 기술을 자랑해 보세요.
실습
이 실습에서는 Qwiklabs와 Google Cloud Platform Console에 접속해 기본 GCP 기능인 프로젝트, 리소스, IAM 사용자, 역할, 권한, API 및 Cloud Shell을 사용하게 됩니다.
실습
In this lab, you familiarize yourself with Google Cloud Billing reports, which provides built-in cost reporting for GCP within the Google Cloud Console. You view Billing reports from a live billing account, understand current and forecasted GCP costs, and then analyze costs using report filters to identify cost drivers and trends
실습
In this lab you will create datasets and tables, import data from billing reports, and conduct a variety of queries on the data using BigQuery.
실습
In this lab, you will harness the power of Data Studio, where you will learn how to build billing graphs and charts so you can slice and dice your GCP bill the way you want.
실습
Use Google Sheets data connector to harness the power of BigQuery. The Sheets data connector lets you access and use data analytic functions to run queries and analyze data. You could create a Sheet to access and analyze your sales data, for example, then configure your Sheet to always reflect current data.
info
Quest Info
Plan for effective cloud cost management by setting up your teams, tools, and applying financial governance best practices.
Set up Google Cloud Billing account(s) and organize your resources for cost management.
Use Billing reports to gain visibility into your current cost trends and forecasted costs.
Export to and examine billing data with Google Sheets or BigQuery.
Visualize billing data with Billing reports and build custom dashboards with Data Studio.
Students enrolling in this Quest do not need any prior Google Cloud technical experience. This training will be most beneficial for those currently in a public cloud / IT finance or resource management role.
Anyone managing Google Cloud spend in any capacity for their company; Roles include: Finance and IT procurement leads, Financial Controller, VP of Operations, Billing Ops Lead, Financial Manager, Head of IT Procurement